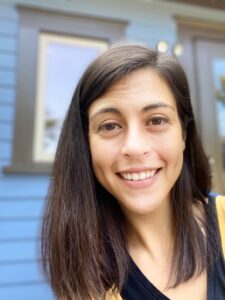 Allison (she/her), Director
Allison is an Oklahoma native who has spent the last eight years working in the South. Her commitment to reproductive justice was shaped by her upbringing in a family of strong Latina feminists and the desire to join a movement that represents the intersectionality of our lives. Currently, she is the director of AMPLIFY Georgia, working to protect and expand access to abortion care in Georgia through collaborative campaigns and sits on the Board of Access Reproductive Care-Southeast. Previously, she worked internationally to promote sexual reproductive health and rights and expand access to safe abortion care, served on the board of the Carolina Abortion Fund, and volunteered as a domestic violence advocate.
---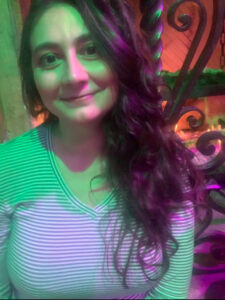 Roula (she/they), State Campaign Manager
I call several places home: Georgia where I live and work, Louisiana where I grew up, and the country of Lebanon where my oldest roots are. In 2006, reeling from existential crisis triggered by natural disaster, war, and survivor's guilt, I applied for my first job as a health educator at an abortion clinic in Atlanta. I didn't know this work would change my life. Today, I'm deeply committed to organizing for reproductive justice. In addition to working for community power and policy change in our state with AMPLIFY Georgia and its partners, I proudly maintain a small consulting portfolio supporting movement organizations and other teams. Wherever I am, I love facilitating groups to do whole-hearted work by weaving their strengths, values, and vision into new strategies and processes.
---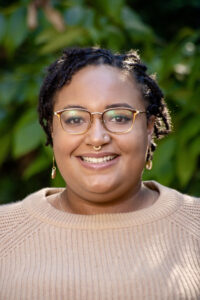 Yemi (she/her), Local Campaign Coordinator
Yemi is a Black Queer Femme liberation strategist, abortion advocate, and reproductive justice organizer. Yemi is currently the Local Campaign Coordinator for AMPLIFY-GA. She has a background in intimate partner violence advocacy as a former Legal Advocate with Partnership Against Domestic Violence and Yemi also worked as a bookseller for Charis Books and More, the south's oldest independently owned feminist bookstore. Yemi began her career in abortion advocacy as a front desk associate at Summit Medical Associates, an abortion clinic in Atlanta, GA. Yemi began her interest in liberation work as a Comparative Women's Studies major at Spelman College where she concentrated in Black Women's Activism and minored in French. Also, Yemi sometimes works as a full-spectrum doula supporting marginalized folks through their reproductive journeys.
---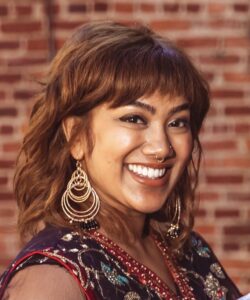 Nadia (she/her), Communications & Digital Media Coordinator
Nadia is a queer South Asian who loves to expose the horror that is white supremacy & capitalism and the beauty that is reproductive justice through memes, art, and conversation. She kicked off her career in psychological research, but through working on the field, learned how structural and systemic oppressions significantly impact our ability to emotionally, mentally, and physically live and thrive. Nadia was grateful to discover the fullness of reproductive justice and serve her communities through her experience working at independent abortion clinic Summit Medical Associates, as well as Raksha, Inc. Outside of doing communications at Amplify GA, she enjoys exploring restaurants in Atlanta, biking in the city, creating aesthetically-pleasing charcuterie boards, and taking care of her plant babies.