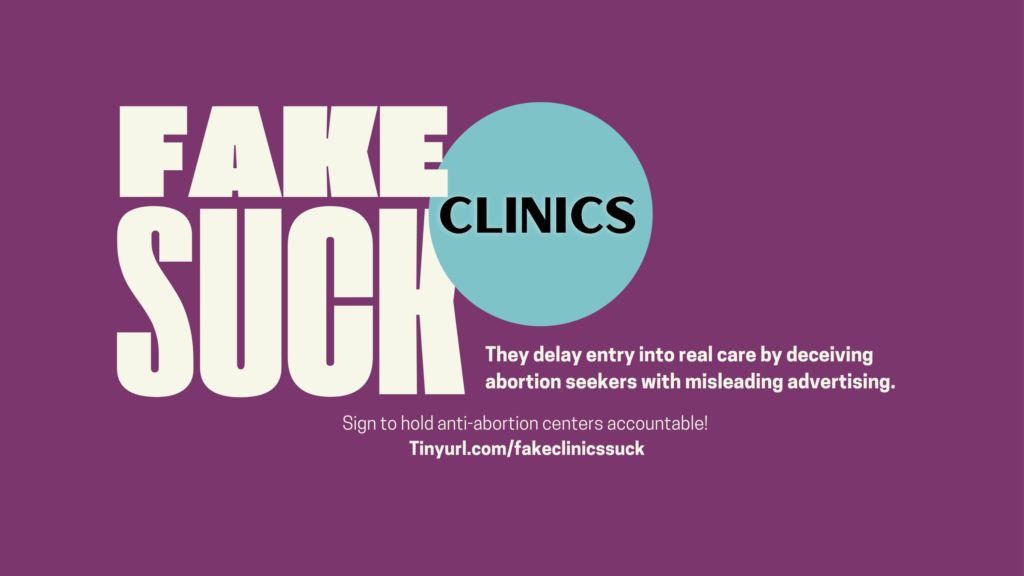 The Fake Clinics Suck campaign is a grassroots movement to defund anti-abortion centers (a.k.a. "crisis pregnancy centers" and a host of other names) in Georgia. These ideologically-driven establishments take public funding—Georgians' tax dollars—to wrongly pose as unbiased health services, then give inaccurate and sometimes harmful information to pregnant people who are seeking support. We are shining a light on anti-abortion centers' deceptive practices and seeking to hold them accountable.

We aim to end the public funding of anti-abortion fake clinics, put a stop to their deceptive and manipulative practices, and call for Georgia to invest in real resources we really need.
Georgia must respect pregnant people's right to make their own decisions, and support them to be healthy in pursuing those decisions. When someone is pregnant or facing the possibility of pregnancy, they need unbiased information, real options and quality healthcare for both birth and abortion, as well as access to material support for their families if they need it.

Anti-abortion centers are public-facing establishments with a primary goal of diverting pregnant people from having an abortion, They are often affiliated with national religious organizations who oppose abortion, preach abstinence until marriage, and don't support access to birth control.


Anti-abortion centers seek to intercept people seeking health care, often by placing physical locations very close to abortion clinics in order to confuse people looking for the clinic. Online, anti-abortion centers employ digital tactics to intercept people searching for abortion care.
Although many anti-abortion centers advertise or imply that they provide healthcare services, most offer a very limited set of services. They do not follow medical standards for sexual and reproductive healthcare.
Unfortunately, many anti-abortion centers are also involved in teaching sex education in public schools, and government funding for anti-abortion centers is an increasing nationwide trend. Both of these things are occurring in Georgia.
Georgia is in the top 10 states with the greatest numbers of these anti-abortion centers. (Meanwhile, due to a lack of legitimate pregnancy care providers and birth facilities in many areas, Georgia is also regularly in the worst 2 states for rates of maternal deaths per capita.)
A recent study of these centers in nine states found that…

Anti-abortion centers

provide virtually no medical care.

State-funded anti-abortion centers are even more harmful than privately-funded centers.
These centers appear to be local but are part of a global anti-abortion network.
Nationwide, anti-abortion centers outnumber abortion clinics by 3 to 1. In Georgia, that ratio is even higher — more than 5 to 1.
Almost 2/3 promoted false and/or biased medical claims about pregnancy, abortion, contraception, and reproductive health care providers.
Sign our petition and join our campaign to defund anti-abortion centers in Georgia.
Check out the Crisis Pregnancy Center Map and help others steer clear of fake clinics in their area.
Learn more about the problems posed by anti-abortion centers by reading "Designed to Deceive," a new report on a study of this industry's practices across nine states.